IFIP 60th Jubilee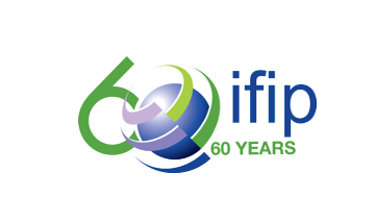 The Brazilian Computer Society (SBC) will join the celebrations of IFIP´s 60th Jubilee hosting a special event during its annual conference, the XLI Congress of the Brazilian Computer Society (CSBC 2021).
This special event will feature a keynote speech of IFIP's president, professor Mike Hinchey.
Keynote
July 20 – 12:00 PM (Brasília) – 11:00 AM (EDT) – 5:00 PM (CET)
Title:
IFIP: a global framework for the socially responsible development and application of information and communication technologies
Abstract:
IFIP – the International Federation for Information Processing – was founded in 1960 following the first World Computer Congress, and under the auspices of UNESCO. Its aim was to support and advance the work of the then-fledgling societies dealing with information processing (which we now refer to as information and communication technology, or ICT) and the nascent computing industry.
Professor Mike Hinchey
IFIP President
Today, IFIP is the global federation of ICT societies and associations committed to advancing the scientific progress, professional, and socially-responsible application of technology based on scientific progress. IFIP's members are national, regional, and international ICT societies. Along with its member societies, IFIP is a strong advocate for ICT equality and works closely with UNESCO, the United Nations, ITU, and many other international bodies, to promote understanding of issues related to technology. It aims to collaborate on solutions to help in the achievement of the United Nations Sustainable Development Goals (SDGs). IFIP also seeks to raise awareness and understanding amongst the wider community about where technology is headed, how it can enhance the quality of all our lives, and how to ensure that all people have equal access and equal opportunity. We describe the structure and operation of IFIP and its role in responsible development and application of ICT.
Shor Bio:
Professor Mike Hinchey is President of IFIP, the International Federation for Information Processing (www.ifip.org) for 2016-2022. He is also President of the Irish Computer Society and Past Chair of the IEEE UK & Ireland Section. He is currently Professor of Software Engineering and Head of the Department of Computer Science & Information Systems at University of Limerick, Ireland, where he is also Emeritus Director of Lero, the Science Foundation Ireland Research Centre for Software. Prior to joining the university, Professor Hinchey was the Director of the NASA Software Engineering Laboratory. In 2009, he was awarded NASA's Kerley Award as Innovator of the Year and is one of only 36 people recognized in the NASA Inventors Hall of Fame. Professor Hinchey holds a B.Sc. in Computer Systems from University of Limerick, M.Sc. in Computation from University of Oxford and a PhD in Computer Science from University of Cambridge. Professor Hinchey is a Chartered Engineer, Chartered Engineering Professional, Chartered Mathematician and Chartered Information Technology Professional, as well as a Fellow of the IET, BCS, Engineers Ireland, and Irish Computer Society. He is the author/editor of over 20 books and more than 200 papers on various aspects of software engineering and computer science. He holds 26 patents, many of which are used in NASA exploration missions. He is Editor-in-Chief of Innovations in Systems and Software Engineering: a NASA Journal and Journal of the Brazilian Computer Society and Associate Editor of ACM Computing Surveys. In 2005, he was Visiting Professor at PUC-Rio. In January 2018, he became an Honorary Fellow of the Computer Society of India and was the SEARCC Global ICT Professional of the Year 2018.
About IFIP
IFIP is the leading multinational, apolitical organization in Information & Communications Technologies and Sciences. It is recognized by the United Nations and other world bodies, and has a formal consultative partnership relation with UNESCO. IFIP represents IT Societies from over 38 countries or regions, covering all 5 continents with a total membership of over half a million. It links more than 3500 scientists from Academia and Industry, organized in more than 101 Working Groups reporting to 13 Technical Committees.
IFIP sponsors 100 conferences yearly providing unparalleled coverage from theoretical informatics to the relationship between informatics and society including hardware and software technologies, and networked information systems.